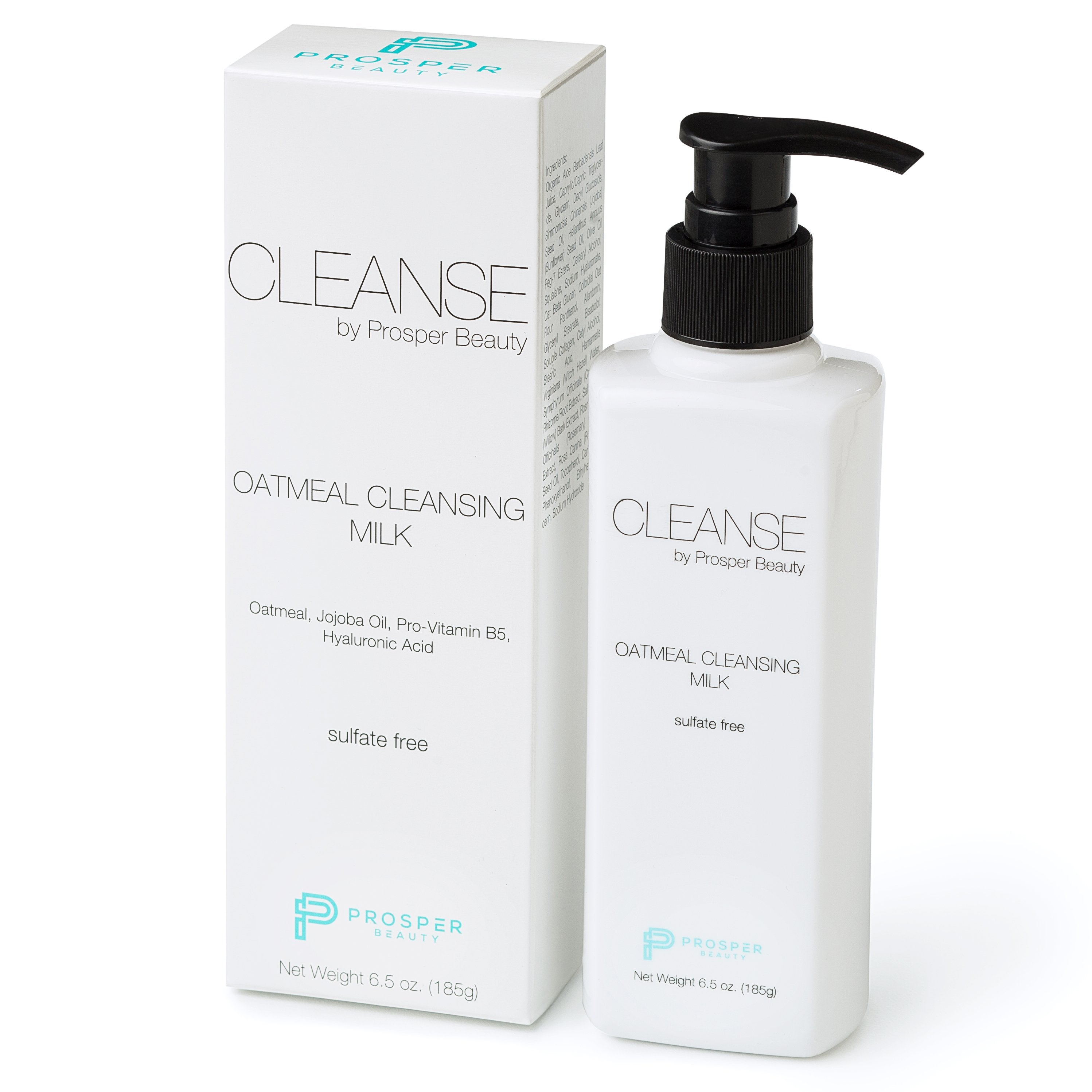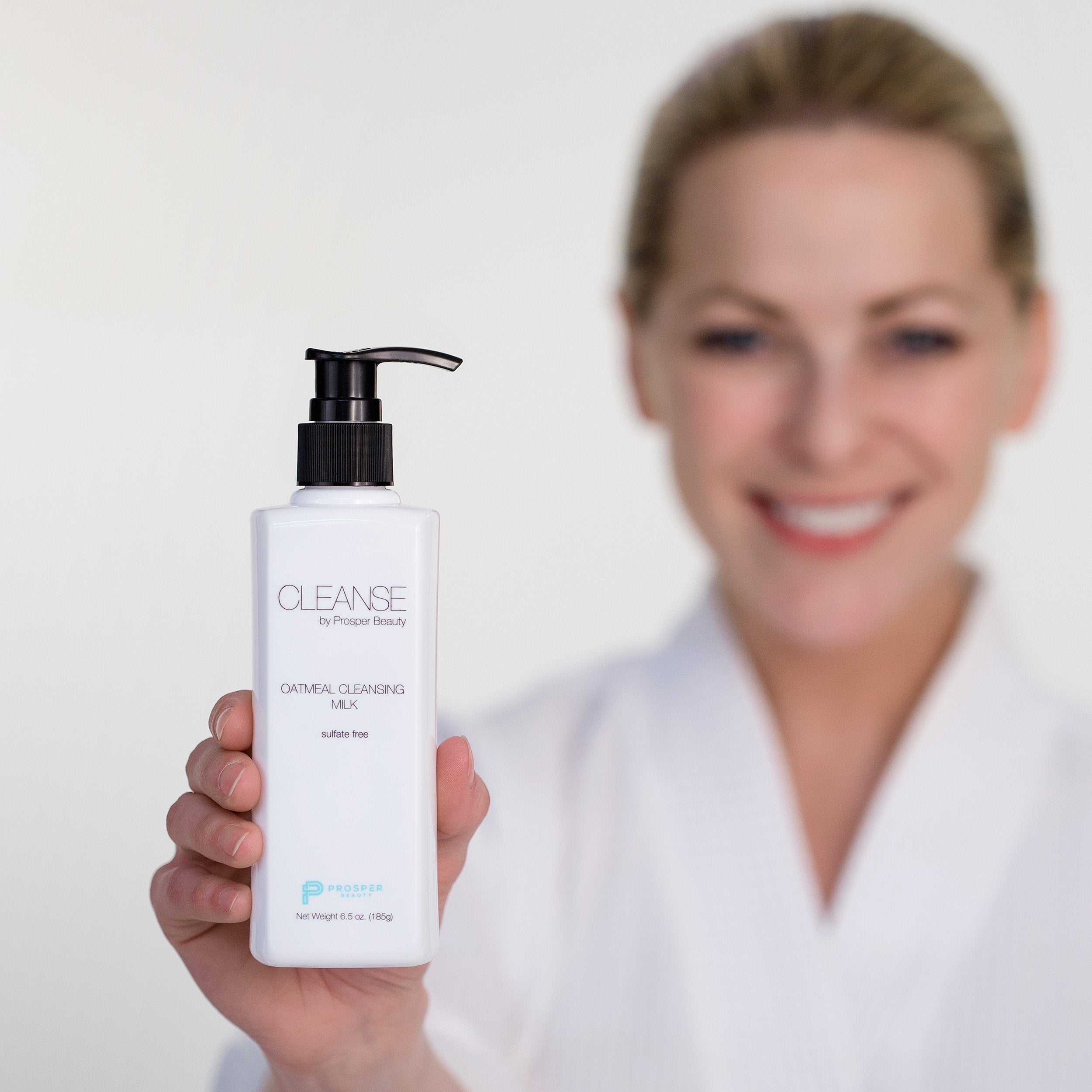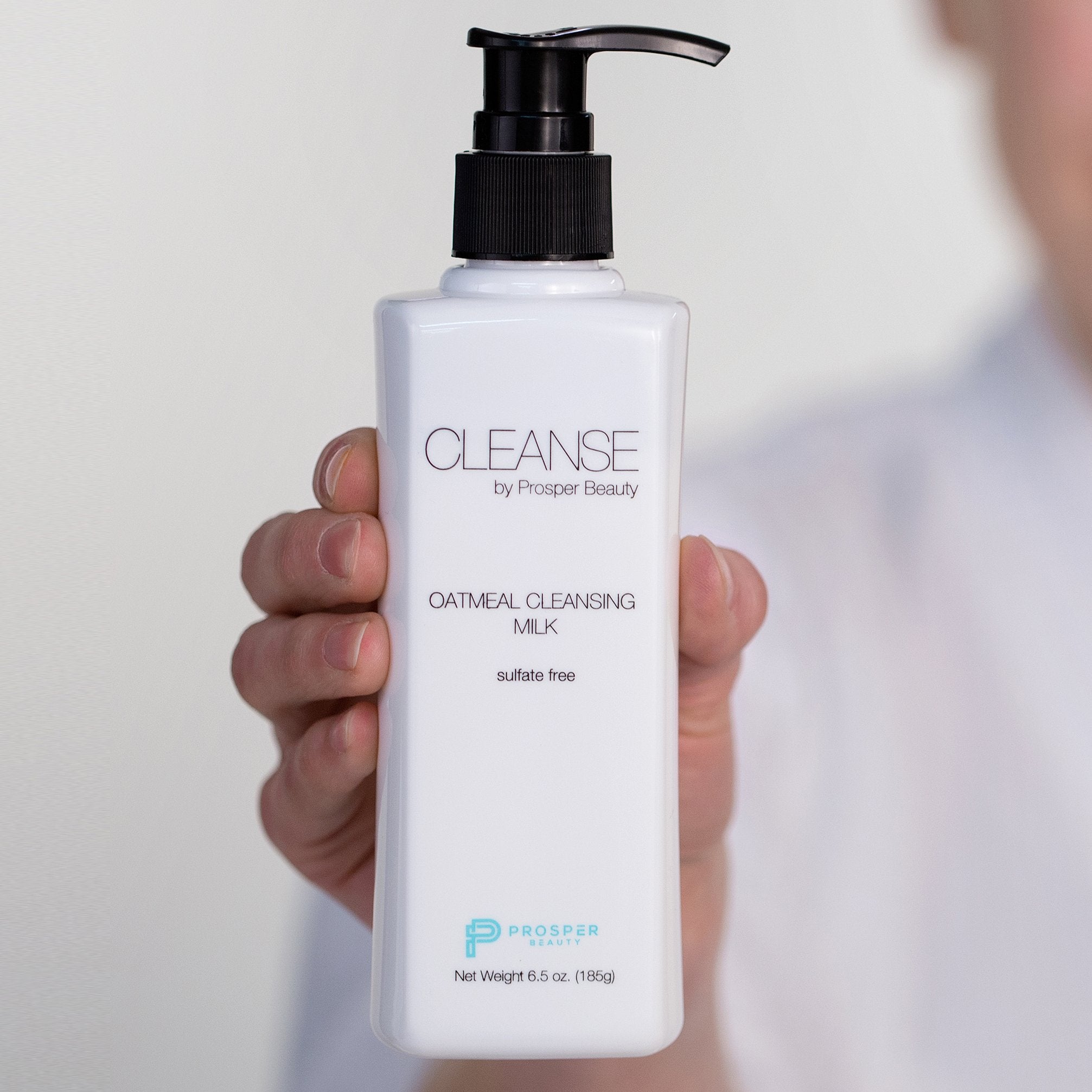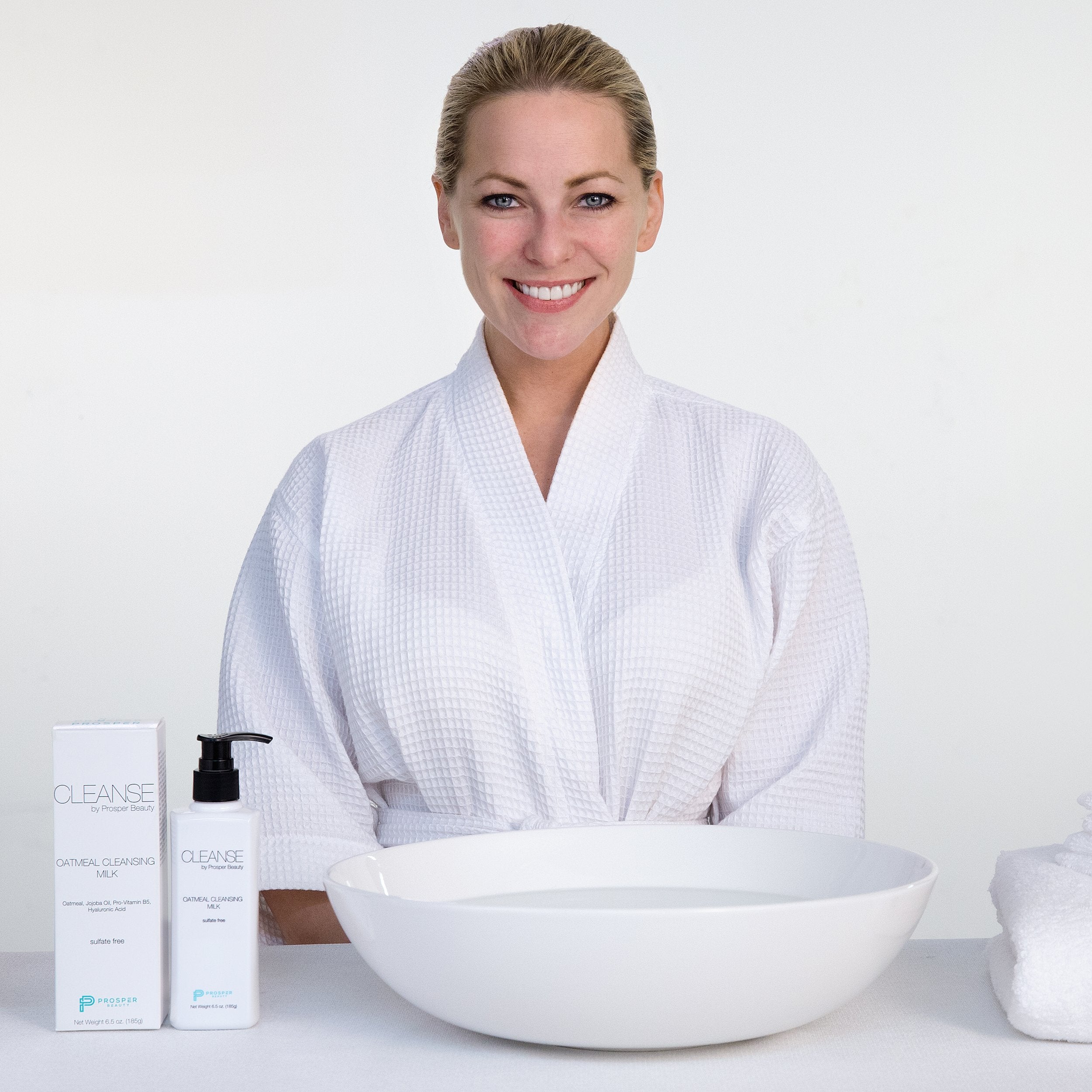 CLEANSE by Prosper Beauty (Oatmeal Cleansing Milk)
CLEANSE by Prosper Beauty is a sulfate free, nourishing Oatmeal Cleansing Milk for all skin types, powerful enough to remove makeup, dirt, and oil, yet is gentle and non-irritating to leave your skin clean, hydrated, and silky smooth…say goodbye to the tight, dry feeling after a face wash! Made in the USA.
3 NATURAL, POWERFUL, AND SAFE CLEANSERS - Contains Decyl Glucoside, a powerful, natural cleanser that is non-irritating, non-allergenic, non-toxic, non-carcinogenic, and safe enough to use in baby products. Also containing Oatmeal and Jojoba Oil, two natural cleansing agents that easily dissolves makeup, erases dirt and impurities, reduces pores, moisturizes, soothes, and restores irritated skin.
CONTAINING PREMIUM MOISTURIZERS - After each wash your skin will always feel hydrated...never stripped of moisture. CLEANSE contains the powerful moisturizing ingredients Hyaluronic Acid, Pro-Vitamin B5, Vitamin E,and Organic Aloe Vera, all proven to promote healthy skin by improving hydration, elasticity, healing, and collagen production. 
BOTANICAL EXTRACTS AND ANTIOXIDANTS - In addition to the safe and powerful cleaning agents and premium moisturizers, CLEANSE contains powerful natural and botanical extracts to promote skin moisturization and health  (

Allantoin, Bisabolol, Rosehip Seed Oil, Witch Hazel, Comfrey Root, Willow Bark, Rosemary Leaf). 

SKIN SAFE, ENVIRONMENTALLY FRIENDLY - CLEANSE is Hypoallergenic, Noncomedogenic, Cruelty Free, Sulfate Free, Paraben Free, Ethanol Free, Fragrance Free, Phthalates Free. 
---
Featuring:
Decyl Glucoside -  A non-ionic surfactant powerful enough to remove makeup, dirt, and oil, but is gentle, non-irritating, non-allergenic, non-toxic, non-carcinogenic, and safe enough to use in baby products. This natural and biodegradable cleaning agent contains moisture binding properties to leave your skin soft and refreshed.
Oatmeal - Perfect for all skin types, this natural, hypoallergenic cleanser contains saponins which removes dirt and oil, yet also reduces pores, treats acne and eczema, reduces inflammation, moisturizes, exfoliates, creates a protective barrier, and soothes irritated skin
Jojoba Oil - A natural, hypoallergenic, noncomedogenic, cleaning agent that dissolves makeup, erases dirt and bacteria, and safe for removing eye makeup. Contains antioxidants to slow the effects of again, stimulates collagen synthesis, moisturizes and balances oil in your skin.
Hyaluronic Acid - A naturally derived, potent hydrator that constantly attracts and retains up to 1,000 times its weight in water from moisture in the atmosphere
Pro-Vitamin B5 - A powerful water binding humectant that retains and preserves the skin's moisture that also soothes, heals, and regenerates the skin while improving the skin's barrier function.
Vitamin E - A natural anti-aging nutrient and antioxidant that boosts collagen production, improves moisture, increases skin elasticity, treats blemishes, and reduces inflammation.
Allantoin - Extracted from the comfrey plant, it's best known for promoting healthy skin formation, skin hydration, soothing, healing, and keratolytic properties.
Bisabolol -  Derived from chamomile, it's anti-inflammatory properies helps soothe skin, stimulates healing, and moisturizes.
Organic Aloe Vera - Nature's soothing healer, antioxidant, anti-inflammatory, and moisturizer.
---
Directions:
1. For best results, use CLEANSE twice a day, morning and evening.
2. Apply a quarter-size amount onto damp face, and massage gently for 30 to 60 seconds. 
3. Remove by rinsing with a splash of water or with a damp, soft washcloth.
4. Gently pat dry with towel and follow with appropriate treatment and moisturizer. Pair with IMMERSE anti-wrinkle moisturizing cream for 72 hour hydration.
Precautions:
1. CLEANSE is for cosmetic, external use only.
2.  Avoid any contact with eyes. Rinse thoroughly with water if contact with eyes occur.
3.  If irritation occurs, discontinue use. 
CLEANSE by Prosper Beauty: Cruelty Free, Sulfate Free, Paraben Free, Ethanol Free, Artificial Fragrance Free, Phthalates Free
Ingredients: 
Organic Aloe Barbadensis Leaf Juice, Caprylic/Capric Triglyceride, Glycerin, Decyl Glucoside, Simmondsia Chinensis (Jojoba) Seed Oil, Helianthus Annuus (Sunflower) Seed Oil, Olive Oil Peg-7 Esters, Cetearyl Alcohol, Squalane, Sodium Hyaluronate, Oat Beta Glucan, Colloidial Oat Flour, Panthenol, Allantonin, Glyceryl Stearate, Bisabolol, Soluble Collagen, Cetyl Alcohol, Stearic Acid, Hamamelis Virginiana (Witch Hazel) Water, Symphytum Officinale (Comfrey) Rhizome/Root Extract, Salix Nigra (Willow) Bark Extract, Rosmarinus Officinalis (Rosemary) Leaf Extract, Rosa Canina (Rosehip) Seed Oil, Tocopherol, Carbomer, Phenoxyethanol, Ethylhexylgylcerin, Sodium Hydroxide