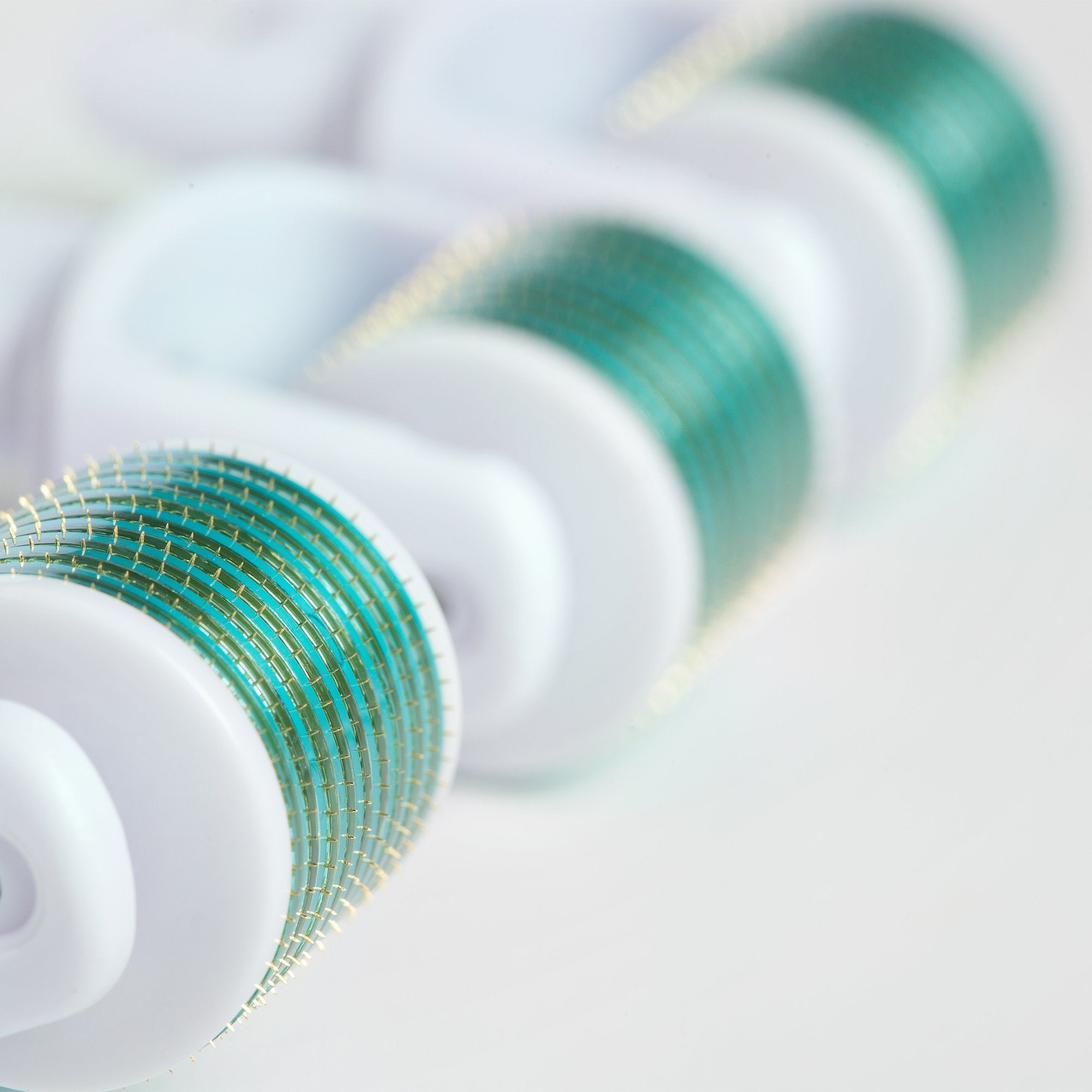 DERMAROLL REFILLS 0.5mm by Prosper Beauty (4 Roller Heads 0.5mm - NO HANDLE, ROLLER HEADS ONLY)
**FOR USE BY HEALTHCARE PROFESSIONALS AND AESTHETICANS**
DERMAROLL REFILLS 0.5mm by Prosper Beauty is a Microneedle Replacement Head Kit containing:

4 replacement heads with 600 titanium fine needles (0.5mm) - for use with DERMAROLL 
0.5mm micro needles are non-invasive, are safe to use at home, painless, and won't injure the skin. Titanium micro needles are 3-4 times stronger than stainless steel and will remain sharper longer. Included roller head refills will promote better hygiene and sanitary usage.
NOTE: This kit only contains replacement roller heads, no handle is included
 ---
DERMAROLL is for individual use only. Do not share your DERMAROLL with others. Do not use on skin that has acne, eczema, sensitive, irritated, inflamed, or open wounds. Refrain from using on raised moles and warts. Keep out of reach of children.
Instructions:
1) The DERMAROLL may be used up to a 3-5 times a week on face and neck.
2) Thoroughly clean face, neck, and hands and dry completely before using the DERMAROLL.
3) After cleansing, apply desired skincare product or serum upon skin and neck (optional).
4) Use the DERMAROLL over forehead, chin, lips, neck, and both sides of the face.
5) For best results use light pressure, gently roll over skin in horizontal, vertical, and diagonal directions. Pass each area of the skin 2-3 times per direction. Do not roll over the same section more than 10 times.
6) After dermarolling, reapply desired skincare product or serum on skin and neck (optional).
7) Clean and disinfect your DERMAROLL before and after each use. Dispose of roller head after 3-5 uses and replace with new roller head.
Cleaning:
1) Disinfect your DERMAROLL by submerging the entire roller head in a cup of 91% isopropyl alcohol for 10 minutes.
2) Rinse thoroughly with water and allow to dry completely.
3) Upon drying, place the DERMAROLL in storage case until next use.
4) Before next use, disinfect the DERMAROLL again to ensure proper hygiene. Dispose of roller head after 3-5 uses and replace with new roller head.
Replace/Dispose:
1) DERMAROLL heads should be replaced after 3-5 uses to ensure proper hygiene, prevent skin damage and infection. Needles dull with each use, and improper disinfection methods may lead to risk of infection and damage. Using new, sanitized DERMAROLL heads will minimize such risks.
2) To remove, press the button underneath the handle and gently pull off roller head and dispose.
3) To replace, press the button underneath the handle while inserting the new roller head